Welcome to the CTFLab at Cornell
Our research focuses on predicting turbulent reacting multiphase flows using massively parallel numerical simulations. In order to model realistic engineering devices, our goal is to design new physical models, and combine them with novel numerical methods designed for high scalability, so that large-scale computing resources can be fully exploited to perform world-class parallel simulations of concrete engineering problems.
Featured News
Research Spotlight
Some of our current research thrusts are highlighted below. A more comprehensive description of our research activities can be found here.

Novel numerical methods can help better understand the physics of spray formation using massively parallel simulations.

High-fidelity simulations of fluidized bed reactors provide insights on multiphase dynamics that can impact biomass conversion.
The method of manufactured solutions allows to systematically verify complex codes.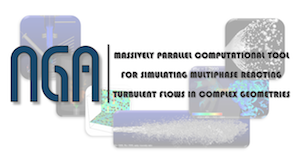 NGA is a massively parallel multiphysics flow solver developed in part within CTFLab. More information on capabilities and licensing can be found here.
Seminar Series
More Information